Children's home "Coega Door of Hope" in Gqeberha, South Africa

kkk
"Do your little bit of good wherever you are. It's those little bits of good put together that overwhelm the world." Desmond Tutu (South African minister and human rights activist)
"Every child is my child" – how it all began

Coega Door of Hope was founded in November 1999 by Gladys Panda in a small house in Motherwell Township (informal settlement in the Coega area) on the outskirts of Gqeberha in the Eastern Cape Province under the name Mother's Ark. Soon Gladys Panda was mother to 11 children who needed a home. Soon, there was not enough space in the house and Mama Gladys came to her limits to care for the children on her own. It became evident to her that additional financial and personal support was needed to continue running the children's home and so the children's home was registered as a non-profit organisation under the name Coega Door of Hope in December 2002. The children's homecurrently provides a home for 26 children and young people (4-19 years) and three young adults.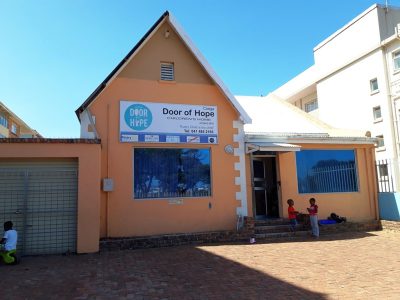 A permanent home
After Mama Gladys left Motherwell Township with the children in 2005 to offer them access to better schools, the family found their own house in the Sydenham district within the city of Gqeberha in 2009 after four years in two rented houses. For Mama Gladys and the children, it was the first time they had their own house to themselves: a permanent home.
The house has four bedrooms for the children, Mama Gladys and the caretakers, two bathrooms with a toilet, a kitchen with a small dining area and a small living area. There is also an outdoor area where the children can play safely. There is also a vegetable garden outside, so that the family can support themselves.
 "Namkelekile ekhaya bantwana bam" – A family 
"Welcome home my children" is how Mama Gladys welcomes her children after school in isiXhosa, one of the 11 official languages in South Africa. This is exactly what Coega Door of Hope is: a home for children and teenager. A home full of love and security.
The aim of Coega Door of Hope is the child-friendly care and education of children. This includes that the children grow up in a family environment characterised by love and care for each other. The children's home is a shelter and a big family, in which all children consider themselves as siblings.
Currently, 26 children aged 4 to 19 years are in Mama Gladys care, nine of whom are temporarily looked after in the house. Three of the now already young adults, who are currently in training and studying, also still live in the house. Furthermore, Coega Door of Hope supports two children with their school fees, who do not permanently live in the children's house.
Mama Gladys herself is currently supported by two trustworthy caregivers and occasionally by volunteers who offer their support. Sonja Wiekenberg-Mlalandle has known Coega Door of Hope since her first stay in South Africa in 2011. From the first meeting with Mama Gladys and the children, it was immediately clear to her that she would like to become actively involved in order to support the children's home on a long term basis. On site she has been involved in fundraising and administration as well as in leisure activities with the children.
Since her return to Germany in 2013, she has continued to work closely with Mama Gladys and supports the children's home continuously, either from a distance or during the regular visits on site in Gqeberha. After all these years of trusting cooperation and close friendship with Mama Gladys and the children, she too has become part of the family.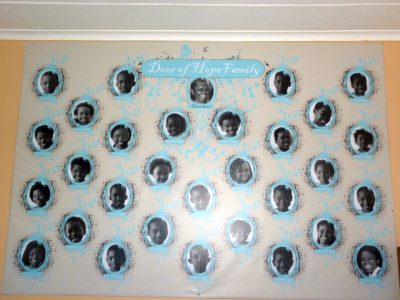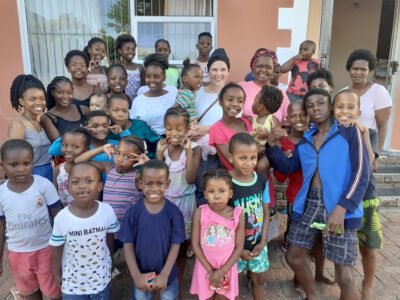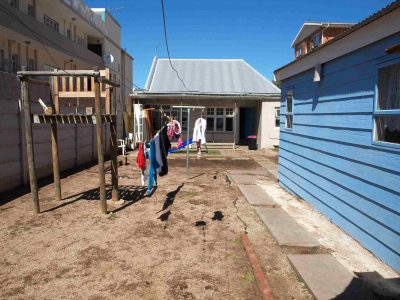 Enable equal educational opportunities
The Eastern Cape is the province in South Africa with the lowest Human Development Index (index for life expectancy, education and income).  In addition to the child-friendly care and upbringing of children in a family setting, our aim is therefore to provide access to equal educational opportunities for socially disadvantaged children and teenager. We want to open the way to a self-determined and self-effective life for them and make a lasting contribution to changing South African society.
To achieve this, it is important that the basic regular expenses of the children's home are covered in the long term. The basic needs include the costs for food, clothing and school fees. This includes school fees and school uniforms, school books and materials as well as transport to school.
Since school attendance in South Africa is particularly expensive (currently between 400-700 Euros per year), we usually need more than one sponsor for a child (one sponsor of 50 Euros per month or two sponsors of 25 Euros each per month).
The maintenance and renovation of the house is also necessary in order to continue to provide the children and teenager with a safe home and a place of security. As the house was bought in 2009, it is currently in need of renovation. On the one hand, an additional extension is planned for the outdoor area to give the growing children more space, and on the other hand, the playground for the younger children is to be repaired with new, safe and child-friendly play equipment.
With a one-time donation for the children's home as well as a monthly child sponsorship, you make a valuable contribution and actively engage yourself for just and equal educational opportunities!
Project Coordination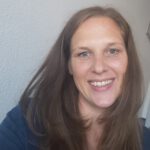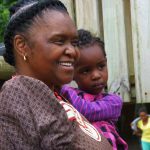 Sonja Wiekenberg-Mlalandle and Gladys Panda
Sonja Wiekenberg-Mlalandle:

*